How much do
thatched roofs cost?
---
Roof thatching is quite specialist therefore, there are many contributing factors that decide how much it will cost to have your roof thatched, patched, re-thatched or re-ridged.

Size of roof
The size of the roof to be thatched will of course have an effect on the cost of the job, due to the need for more or less materials.

Access to the site
If the thatching site is easily accessible, then this won't be a problem, however the thatch cost will change if costs are incurred for us to access the project site.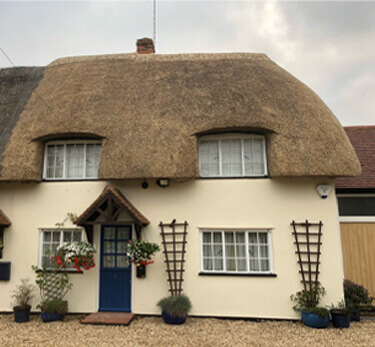 Height to eaves
The height of the roof and eaves where the thatch will take place might affect estimated cost due to increased labour time.

Types of features
You may choose to have extra or optional features included with your thatch, which will affect total cost.

Access to roof
Again, any extra labour needed to gain access to the roof may affect the cost of the job.

Existing thatch condition
If there is existing thatch, cost may depend on whether this thatch can be salvaged or if we need to remove it first.

Shape & Design of features
As the shape and design of the roof changes, so will the amount of materials needed and therefore the overall cost of the thatch.

Complexity of features
If you choose to have additional thatching features, the cost will be affected depending on the complexity of these features.

Height to ridge
The height from eave to ridge varies from building to building and hence the material needed to complete the job will vary accordingly.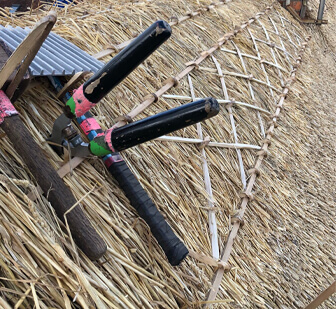 Type of material to be used
Since we can provide thatching in various different materials, the cost of the thatch will depend on the quality of material used.

Existing roof timber
As with previous thatch, the condition of the existing roof timber may affect cost, depending on whether it needs treatment beforehand.

Netting and Moss
Long straw thatching should always be securely netted to prevent bird penetration (as is sometimes the case with Combed Wheat and some Water Reeds). We would always advise on this.
Additional cost and quotations
---
It is not always possible to determine roof timber conditions or existing roof conditions when quoting. It may therefore become apparent that additional costs do occur. In the event of it happening we will always discuss these costs prior to any work not originally quoted for being carried out.
A possible additional cost could be the delay between the receipt of your quotation and your written acceptance being received by ourselves. If sufficient time elapses, another quotation will be required. Thatching Information
Due to the specificity of roof thatching, there are many contributing factors that decide how much it will cost to have your roof thatched or re-thatched.
More Information Thatch Care
Living under a thatched roof is a fantasy for many. As long as you know how to care for your thatch, you can prevent your dream turning into a nightmare.
More Information Our Projects
View our latest successful roof thatching, re-thatching and patching projects. We are pleased to feature them alongside our happy clients.
View Projects