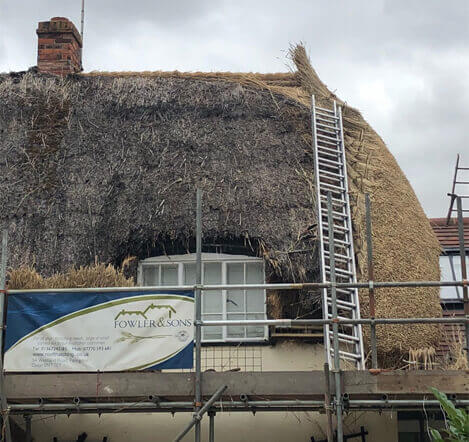 Preston Crowmarsh, Oxfordshire
---
Mr and Mrs Stanley are new customers to us, we have done lots of work in the village and the property opposite is a property we thatched when Ben, the youngest son got married and it was nice to talk to previous customers within the village. Mr and Mrs Stanley's cottage needed a full re-thatch ready for the winter as it was in a poor state.
The Challenge
---
Mr and Mrs Stanley's roof was in a bad state and also let us in for some surprises along the way, as the joining property wasn't having their roof done so we had to join into the thatch in a way that it will not cause any problems for their roof. When stripping some of the old thatch out the wood work fell out due to poor repair, we replaced the wood work to a high standard and continued with our thatching. The property was fully thatched and a flush ridge was applied along with a pheasant the customer had requested…
The Outcome
---
Mr and Mrs Stanley's roof had its challenges but nothing Fowler and sons couldn't deal with in a professional manner. The full re-thatch was complete and tidied to a high standard, also next door were happy with how we had joined into their roof and kept their property tidy while we had been working there in some strong winds. We look forward to working for Mr and Mrs Stanley in the future.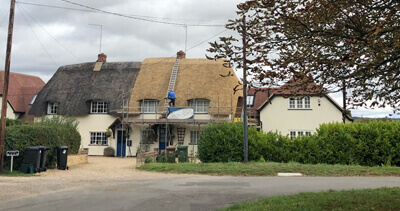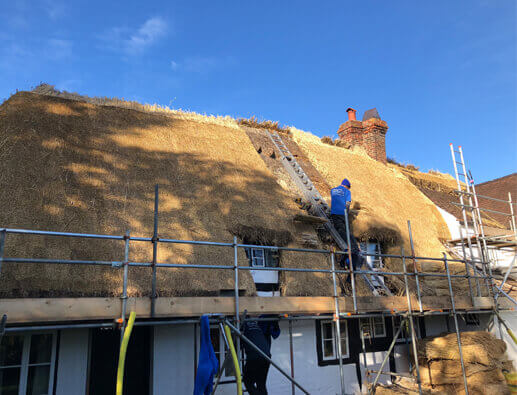 I wanted to just drop you a quick line to say thank you so much to you and your amazing team for the outstanding thatching on our roof. When I drive over my bridge now and look up at the cottage it looks so beautiful and I am truly appreciative for the wonderful job you guys have done. I cannot believe how amazing it looks and what was a 'poor old cottage' has now been transformed and looks happy and loved again. It really has been a pleasure having you and your team around and I will miss not seeing your happy smiling faces and cheerful banter, it has also been delightful to see all of you take such pride in the quality of your work. Everything has been left spotless. We have had many people admiring the quality of your work and we would therefore highly recommend the services of you and your team and look forward to seeing you again.




Get in touch with us today for a consultation,
and a no-obligation quote on 01367 242 185
At Fowler and Son Ltd, we merge high-quality traditional craft with what our customers expect of a morden business is centered on sterling customer service.